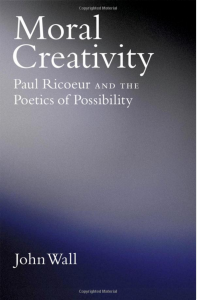 New York: Oxford University Press, 2005
Drawing on postmodern hermeneutical phenomenology, especially in Paul Ricoeur, this book argues that moral life is inherently creative. Moral action rests on a primordial human capability for transforming historical evil and tragedy through the formation of ever more radically inclusive moral worlds.
This view opposes a long division of "ethics" from "poetics" all the way from Plato and Aristotle to Kant and Nietzsche. This division has given rise to the contemporary assumption that moral life might apply fixed moral principles or recover past moral traditions, but it remains distinct from the arts and sciences in not fundamentally forming or innovating new meaning. The book also opposes a similar religious division of "ethics" from "images" in the sense of idols. It argues instead for a re-interpretation of humanity as created morally creative "in the image" of its Creator.
The book engages an array of classical thinkers on ethics and poetics from ancient to medieval and modern times, makes use of contemporary philosophers of religion from Ricoeur to Levinas, Kearney, Marion, Irigaray, Nussbaum, and McFague, and offers fresh interpretations of poetic creations like Genesis 1, Michelangelo's "Creation of Adam," and Sophocles' Antigone.
View description at Oxford University Press
View detailed chapter abstracts from Oxford Scholarship Online
Table of Contents
Introduction. The Possibility for Moral Creativity, 3
1. Paul Ricoeur and the Poetic Moral Self, 25
2. Radical Evil and the Narration of Goods, 61
3. Otherness and the Poetics of Love, 103
4. Ideology and the Art of Reconciliation, 137
Conclusion. The Poetics of Moral Life, 171
Reviews
"John Wall is dealing here with one of the most urgent philosophical questions of our time. He manages to combine a lively, anecdotal, engaging syle with a lucid sense of argument and a wide range of scholarly reference. Ricoeur is his guiding spirit but by no means an exclusive one. This is much more then a critical monograph or missionary declaration of intent. It is a deeply reflective, personally engaged, intellectually robust journey into the very meaning of 'creativity' in its cultural, ontological, aesthetic and ethical dimensions." — Richard Kearney, author of and The God Who May Be: A Hermeneutics of Religion and On Paul Ricoeur: The Owl of Minerva
"John Wall's Moral Creativity is a thoughtfully written, carefully researched, and insightful book that makes an original contribution to religious ethics through a critical reading of the work of Paul Ricoeur. Wall successfully crafts a poetic moral philosophy in relation to the narratological and tragic dimensions of human existence. Through careful and sensitive readings of important Continental and postmodern thinkers, Wall calls the reader to create a narrative unity of life amidst the complexities and incommensurabilities of daily, lived existence. A stunning achievement and must read for students and scholars interested in the moral life in the face of radical evil and the loss of hope in our time." — Mark I. Wallace, author of Finding God In The Singing River: Christianity, Spirit, Nature and The Second Naivete: Barth, Ricoeur, and the New Yale Theology
"Paul Ricoeur is one of the most influential philosophers of the 20th and now 21st centuries. In this lively book, John Wall engages Ricoeur's work, especially the 'poetics of the will,' and, just as importantly, advances an account of the moral life as inherently creative. Wall insightfully addresses major debates within current ethics and deftly demonstrates the significance of "moral creativity" for providing a depiction of human life appropriate for the current situation. Anyone interested in contemporary moral thought as well as Ricoeur's philosophy will be instructed and challenged by this important volume." — William Schweiker, author of Theological Ethics and Global Dynamics: In the Time of Many Worlds
"Wall has skillfully woven the exegetical, dialogical, and constructive parts of his project into a thought-provoking and readable work. Moral Creativity could be profitably read by anyone familiar with contemporary debates in religious and philosophical ethics. It will both broaden the appeal of Ricoeur's writings and advance the conversation about the relation of ethics to poetics." — Glenn Whitehouse, Journal of Religion
"A provocative primer rich and thoughtful in current phenomenological conversations related to major questions debated today." — Horizons