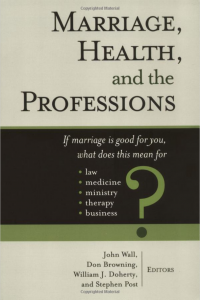 Marriage, Health, and the Professions: If Marriage is Good for You, What Does This Mean for Law, Medicine, Ministry, Therapy, and Business?
John Wall, Don Browning, and William J. Doherty, and Stephen Post, eds.
Grand Rapids, MI: Eerdmans Publishing, 2002
The purpose of this book is to investigate how the professions should approach marriage in today's world of high divorce, cohabitation, and nonmarital births.  Specifically, the book is a response to and analysis of recent social scientific evidence that marriage is on the whole good for the partners involved, their children, and society.



Reviews
"Don Browning … and his colleague-editors have assembled 14 essays through which they have constructed a very important study of how marriage can make people and their communities more healthy. … The book is addressed specifically to students and practitioners of five professions of law, medicine, ministry, therapy, and business but it may also be read profitably by anyone with a lively interest in marriage." – Library Journal


Contents

Introduction, John Wall, Ph.D., and Don Browning, Ph.D.

Part I.  Marriage and Health

1.  The Health Benefits of Marriage, Linda Waite, Ph.D.

2.  The Personal and Social Costs of Divorce, David Popenoe Ph.D., and Barbara Dafoe Whitehead  Ph.D.

Part II.  Marriage, Health, and the Professions

Law
    
3.  The Goods and Goals of Marriage: The Health Paradigm in Historical Perspective, John Witte L.D.

4.  Is the Genie out of the Bottle? A Lawyer's View, Muller Davis L.D.     
           
Medicine

5.  Health, Marriage, and the Ethics of Medicine, Stephen Post  Ph.D.

6.  Marriage in Medical Practice: A Doctor's View, Edmund Pellegrino M.D.

Ministry

7.  Whose Marriage? Whose Health? A Christian Feminist Ethical Response, Christine Firer Hinze, Ph.D., and Mary Stewart Van Leeuwen, Ph.D.

8.  Health, Marriage, and the Practice of Ministry, Richard Hunt, Ph.D.

Therapy and Counseling

9.  Health, Christian Marriage Traditions, and the Ethics of Marital Therapy, John Wall, Ph.D., Bonnie Miller-McLemore, Ph.D.

10.  Health and the Ethics of Marital Therapy and Education, William Doherty, Ph.D., and Jason Carroll

Business

11.  Familial, Social, and Professional Integrity in Relationship to Business, Max L. Stackhouse, Ph.D.

12.  Reconstructing Home: Business Responsibility for the Family, Shirley J. Roels, Ph.D.

Part III.  Widening the Discussion

13.  Do Religion and Spirituality Contribute to Marital and Individual Health? David Larson, M.D., M.S.P.H.,  and James P. Swyers, M.A.

14.  Marriage, Family, and Health in Selected World Religions, Paul Numrich, Ph.D.