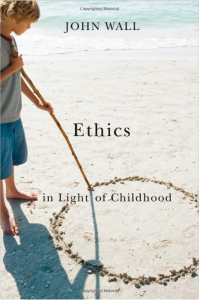 Washington, DC: Georgetown University Press, 2010
This book examines how contemporary moral theory and practice should be transformed in light of the distinctive experiences and perspectives of children. Much as fundamental ethical ideas have changed through feminism, womanism, environmentalism, and humanism, so also, but in new ways, should they be restructured through what may be called "childism." 
The basis for such an ethics is not individual autonomy or traditional community but expanding responsiveness. This notion is developed in reply to three questions: What is human being? What are society's aims? And what is owed to the other? It is formulated in dialogue with a long Western philosophical and religious history of thought in light of children and contemporary ethical ideas. And it is illustrated through concrete practices of human rights, family life, social processes, and much else.


Contents
Introduction
PART I. HISTORY
1. Three Enduring Models
PART II. THEORY
2. What Is Human Being?
3. What Is the Human Aim?
4. What Is Owed Each Other?
PART III. PRACTICE
5. Human Rights in Light of Childhood
6. The Generative Family
7. The Art of Ethical Thinking
Conclusion
Reviews
Could viewing moral issues from the perspective of children create a revolution in philosophical and religious ethics? This beautifully written book brilliantly argues that it will. Get ready for a new paradigm in ethics that author John Wall calls 'childism.' It may be as exciting for ethics as feminism was thirty years ago and be central to moral debates for decades to come. Don Browning, professor emeritus, Department of Religious Ethics, University of Chicago, and author of Reviving Religious Humanism. 
This is not just a book about children and ethics. This book revolutionizes the very way ethics is done. With probing insight and close attention to social practice, John Wall rescues children from their usual place as the 'most systematically excluded group on the planet' and moves them to the center of moral deliberation. This book should be required reading for ethicists and all those who care about sustaining the good life and a just society.  Bonnie J. Miller-McLemore, E. Rhodes and Leona B. Carpenter Professor of Pastoral Theology, Vanderbilt University Divinity School and Graduate Department of Religion. 
This wonderful book takes the study of childhood and of ethics to a new and transformative level. Animating ethical theory with stories drawn from real children's lives, Wall calls for a fundamental restructuring of ethical thinking. It is essential reading for anyone who thinks deeply about children.  Barbara Woodhouse, L. Q. C. Lamar Chair in Law and co-director, Barton Child Law and Policy Clinic, Emory University.
Ethics in Light of Childhood is recommended for summer reading in Sweden.