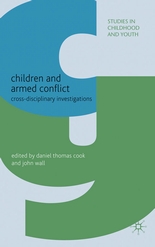 Children and Armed Conflict 
Cross-Disciplinary Investigations
Edited by Daniel Thomas Cook (Rutgers University, Camden) and John Wall (Rutgers University, Camden)
Palgrave Macmillan 2011 
Studies in Childhood and Youth, Series Editors Allison James and Adrian James 

Violence, conflict, and war challenge everyday understandings about the 'nature' of children and boundaries of childhood. In the disruption and destruction of the lives of children, their families and communities, childhood itself transforms and takes shape. Children, like others, are both subject to the consequences of war and actively involved in many aspects of conflict. They are and have been fighters, victims, refugees, peace-builders and reasons both to enter into and to end wars. Children and Armed Conflict explores the multi-faceted ways in which children have encountered armed conflict, illuminating their varied historical and contemporary roles. This book moves beyond conceptualizing the child simply as either 'victim' or 'soldier' by examining children's experiences of armed conflict in their broader historical, sociological, anthropological, literary, cultural, psychological, and public policy complexities.
Table of Contents
Introduction: Broadening the Conversation, Daniel Thomas Cook and John Wall 
Part I. Contextualizing Children's Armed Conflict Historically 
1. Girl Soldiers in World War I: Marina Yulova and Sofja Nowosie?ska, Margaret R. Higonnet
2. "What good are the words?": Child Memoirs and Holocaust Fiction, Adrienne Kertzer
3. Playing at War: Modern Historical Trends and Debates, Gary Cross 
Part II. Understanding Children's Armed Conflict Experiences 
4. Personal and Collective Psychosocial Resilience: Implications for Children, Young People and Their Families Involved in War and Disasters, Richard Williams and John Drury
5. Psychological Impact of War Atrocities in Darfur on Children: Implications for Assessment and Intervention in War Zone Areas, Dorothy Morgos
6. Community Politics in Refugee Contexts: Young People, Networks and Decision-Making, Christina Clark-Kazak
7. Children as Victims of War: The Moral Economy of Care, Charles Watters 
Part III. Rethinking Children's Armed Conflict Policy 
8 . "Playing 'Catch with a Hatchet'": Integrating Children's Knowledge into Post-War Peacebuilding, Siobhan McEvoy-Levy
9. Protection of Children in Disaster and War, Layal T. E. Sarrouh and Neil Boothby
10. Child Soldiers: Protection or Responsibility, Joseph Rikhof
11. The Reintegration of Formerly Recruited Girls: A Resilience Approach, Michael Wessells 
Conclusion: Insights for Further Research, John Wall and Daniel Thomas Cook