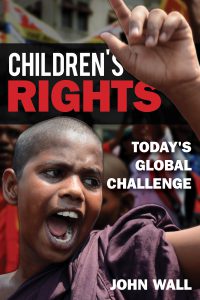 Children's Rights: Today's Global Challenge (Rowman and Littlefield, October 2016).
"John Wall is right when stating that this is the century of children's rights. His book guides us through the many challenges we need to take up to ensure that human rights can be understood and practiced in creative new ways that are fully inclusive of children. This is a must read for academics, students, and professionals as it inspires and motivates by bringing together theoretical, historical, and practical debates.
— Bruno Vanobbergen, University of Ghent, Children's Rights Commissioner for the European Network of Ombudspersons for Children (ENOC)

Ethicist and philosopher John Wall tackles some of the most intriguing and important questions posed by the concept of rights for children. In addition to articulating a persuasive and coherent theory of children's rights that builds on the experiences of prior emerging rights movements, Professor Wall explores how children's rights play out in specific contexts from the right to vote to the right to be free from exploitative labor. Free of jargon and a pleasure to read, this is a book for every reader who cares about the future of human rights.  —  Barbara Bennett Woodhouse, LQC Lamar Professor of Law, Emory University

John Wall builds on his work on morality and ethics to refresh our views on children's rights. He moves the reader away from a minority world perspective to explore the ways children's rights are interpreted and reinterpreted in specific contexts across the world. His blend of history, philosophy, and sociology presents an up-to-date analysis of ongoing debates around cultural relativism, education, child labor, and exploitation. He presents a new argument on aspirations to children's voting rights. This is a useful book for anyone who is interested in the plight of children globally.  — Tom Cockburn, Edge Hill University

Children's Rights is a remarkable achievement. It is unique in presenting contrasting perspectives on the various issues related to children's rights. While on one hand discussing the place of children in human rights theories, it also gives a number of very concrete and heart-wrenching stories. While providing a narrative with a broad historical and geographical scope, the book sets out the most important contemporary problems children face in societies around the world with examples from education, slavery, and the right to vote. And most striking, while addressing a litany of problems and challenges facing children even now, Wall strikes an optimistic tone throughout the book, including in the last chapter when looking forward to a better future for children. This book is indispensable to anybody who wants a better understanding of children's rights in all its facets.  — Joseph Rikhof, University of Ottawa
Wall skillfully takes the contested subject area of children's rights and makes it accessible to a wide range of readers without reducing the quality or complexity of the debates presented. … This text is essential to have on the library shelves of any institution which explores childhood rights discourses and legislation and is already identified as essential reading for my own students. It eloquently outlines the emergence of rights as well as its ambiguities and current challenges. Without sentimentality, Wall articulates the plight of children globally and calls for the transformation of children's rights to be the catalyst to reshape human rights for both adult and child. — Sarah Richards, University of Suffolk, in Global Studies of Childhood 2019, 9(1):96-97 (full review here).
View my talk on this book at Cambridge Public Library, 2018
Visit Rowman and Littlefield Publishers description
---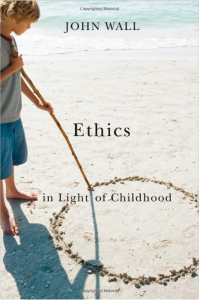 Ethics in Light of Childhood (Georgetown University Press, 2010).
"Could viewing moral issues from the perspective of children create a revolution in philosophical and religious ethics? This beautifully written book brilliantly argues that it will. Get ready for a new paradigm in ethics that author John Wall calls 'childism.' It may be as exciting for ethics as feminism was thirty years ago and be central to moral debates for decades to come." – Don Browning, professor emeritus, Department of Religious Ethics, University of Chicago, and author of Reviving Religious Humanism. 
"This is not just a book about children and ethics. This book revolutionizes the very way ethics is done. With probing insight and close attention to social practice, John Wall rescues children from their usual place as the 'most systematically excluded group on the planet' and moves them to the center of moral deliberation. This book should be required reading for ethicists and all those who care about sustaining the good life and a just society." – Bonnie J. Miller-McLemore, E. Rhodes and Leona B. Carpenter Professor of Pastoral Theology, Vanderbilt University Divinity School and Graduate Department of Religion. 
"This wonderful book takes the study of childhood and of ethics to a new and transformative level. Animating ethical theory with stories drawn from real children's lives, Wall calls for a fundamental restructuring of ethical thinking. It is essential reading for anyone who thinks deeply about children." – Barbara Woodhouse, L. Q. C. Lamar Chair in Law and co-director, Barton Child Law and Policy Clinic, Emory University.
"Creative, thought-provoking book." – Choice
"The author takes us on a stimulating journey through considerations of history, theory and practice, and frequently relies on the perceptions of children themselves to illustrate the points he wants to make." – Fraser Brown, Children & Society
Visit Georgetown University Press description
---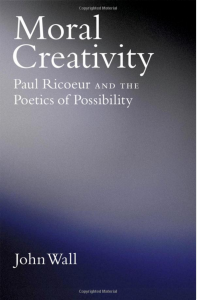 Moral Creativity: Paul Ricoeur and the Poetics of Possibility (Oxford University Press, 2005). 
"John Wall is dealing here with one of the most urgent philosophical questions of our time. He manages to combine a lively, anecdotal, engaging syle with a lucid sense of argument and a wide range of scholarly reference. Ricoeur is his guiding spirit but by no means an exclusive one. This is much more then a critical monograph or missionary declaration of intent. It is a deeply reflective, personally engaged, intellectually robust journey into the very meaning of 'creativity' in its cultural, ontological, aesthetic and ethical dimensions." Richard Kearney, author of and The God Who May Be: A Hermeneutics of Religion and On Paul Ricoeur: The Owl of Minerva
"John Wall's Moral Creativity is a thoughtfully written, carefully researched, and insightful book that makes an original contribution to religious ethics through a critical reading of the work of Paul Ricoeur. Wall successfully crafts a poetic moral philosophy in relation to the narratological and tragic dimensions of human existence. Through careful and sensitive readings of important Continental and postmodern thinkers, Wall calls the reader to create a narrative unity of life amidst the complexities and incommensurabilities of daily, lived existence. A stunning achievement and must read for students and scholars interested in the moral life in the face of radical evil and the loss of hope in our time." Mark I. Wallace, author of Finding God In The Singing River: Christianity, Spirit, Nature and The Second Naivete: Barth, Ricoeur, and the New Yale Theology 
"Wall has skillfully woven the exegetical, dialogical, and constructive parts of his project into a thought-provoking and readable work. Moral Creativity could be profitably read by anyone familiar with contemporary debates in religious and philosophical ethics. It will both broaden the appeal of Ricoeur's writings and advance the conversation about the relation of ethics to poetics." — Glenn Whitehouse, Journal of Religion
"A provocative primer rich and thoughtful in current phenomenological conversations related to major questions debated today." Horizons 
View description at Oxford University Press
---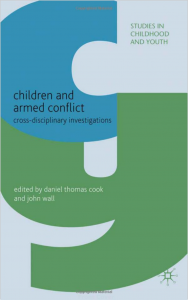 Children and Armed Conflict, Daniel Thomas Cook and John Wall, eds. (Palgrave Macmillan, 2011). 
"This book is indispensible for anyone interested in the problem of children in war. It is a strikingly fresh collection of essays that brings a strong empirical and multidisciplinary approach to an issue dominated by ideology and rhetoric. Drawing on contemporary and historical examples from North America, Northern Ireland, Russia, France, Darfur, Sierra Leone and elsewhere the essays portray the lives of children in complex situations of armed conflict where they emerge as fully human heroes, soldiers, victims, agents, sufferers, patriots and perpetrators. The book is a splendid contribution to the study of children and childhood." Professor David Rosen, Fairleigh Dickson University, USA

View more information

View Palgrave Macmillan description
---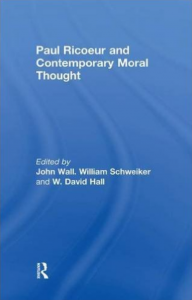 Paul Ricoeur and Contemporary Moral Thought, John Wall, William Schweiker, and David Hall, eds. (Routledge, 2002)
NEW IN PAPERBACK FOR 2016
Here, some of the most influential thinkers in theological and philosophical ethics develop new directions for research in contemporary moral thought. Taking as their starting point Ricoeur's recent work on moral anthropology, the contributors set a vital agenda for future conversations.
"[A]n impressive edition that contributes not only to our understanding of Ricooeur's work but also to contemporary debates in normative philosophy."
Journal of the American Academy of Religion 



---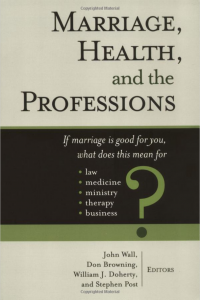 Marriage, Health, and the Professions, John Wall, Don Browning, William Doherty, and Stephen Post, eds. (Eerdmans, 2002).
Don Browning … and his colleague-editors have assembled 14 essays through which they have constructed a very important study of how marriage can make people and their communities more healthy. … The book is addressed specifically to students and practitioners of five professions of law, medicine, ministry, therapy, and business but it may also be read profitably by anyone with a lively interest in marriage. Library Journal
---

Series co-editor, nine books constituting the "Religion, Marriage, and Family Series," ed. Don Browning and John Wall (Grand Rapids, MI: Eerdmans, 2000 to 2002).